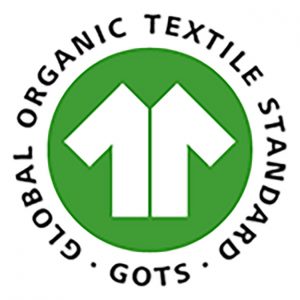 GOTS

Global Organic Textile Standard
Organic or ecologic products are designed and produced with special chemicals which do not create any pathologic or allergic reaction in the consumer. Usually, soft enzymes use in the final wash to ensure maximum protection. This is very important especially for newborn baby products or direct skin contact products like yoga wear or underwear. Simurg Tasarim works with careful suppliers and uses only permitted (Oeko-Tex (Ökotex) approved) dyestuff in production fabrics…
GOTS is a standardization company to ensure organic production explained above; for both material and consumer safety and inspect fairtrade production organizations. GOTS certified products are inspected/approved from soil to end-user production chain by the third party (accredited) bodies for each production lot.
Simurg Tasarim is a member of GOTS accredited companies for a long time. That certificate proves that Simurg Tasarim works within fair trade rules, uses certified organic material/services (for organic labeled products) and respect to the environmental safety.
                       Standard
Global Organik Tekstil Standardı (GOTS) organik liflerden yapılan tekstil ürünleri için dünya çapında en önemli işleme standardıdır. Organik tekstil zincirinin bütün aşamalarında  çok yüksek kıstaslar belirlemekle birlikte ayrıca sosyal sorumlulukla ilgili  gerekliliklere de uyum talep eder.
                       Sertifikasyon
Üretim alanlarının, işletmelerin ve ticaretini yapan kuruluşların denetimi ve sertifikasyonu, GOTS izleme sistemi temellerine dayalı olarak akredite edilen bağımsız kuruluşlarca sağlanmaktadır. Bu durum GOTS sertifikası almış tekstil ürünlerinin güvencesidir
                       Lisans ve Etiketleme
GOTS sertifikasyon işlemlerinin tamamlanmasıyla sertifikalandırılmış olan kuruluşun, GOTS programına dahil olduğunu gösterecek standardın kullanılması ve üretmiş olduğu GOTS ürünleri üzerinde GOTS logosunun kullanılmasını da içeren bir lisansa sahip olması gerekir.
                       Halka Açık Veri Tabanı
GOTS halka Açık Veritabanı kullanıcıların ihtiyaçları doğrultusunda, tedarik zincirinde GOTS sertifikası almış kuruluşlar; bulundukları yer, üretim alanları ve GOTS sertifikası almış ürünleriyle ilgili bilgileri araştırabilmeleri için pratik bir araçtır.